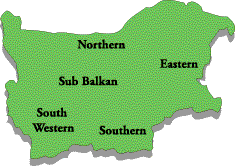 35% of Bulgaria's vineyards lying in this region.
The hilly northern region is threaded with tributaries of the Danube, these form ideal sloping valley sides which are planted with vines. The climate in this region is temperate with brief mild and wet Springs and long hot Summers.
The hilly landscape of the Balkans, south west of Svischtov.
The vineyards of Rousse and Svischtov benefit from a slightly warmer climate due to warm currents of air circulating from the Danube. The loam soils of this region are granular with good water permeability.
The pinnacles of rocks of the western Balkans near Belogradchik , south of Vidin.
The northern region is home to the indigenous Gamza grape. Quality Cabernet Sauvignons and Merlots are produced throughout the region , the white wines are particularly complimentary to the numerous fish dishes which are the speciality of the northern region.
The cities of Lovech and Montana is in this region.
Wineries
Rousse
This winery produces a large range of both red and white wines. Experimentation in recent vintages has led to more fruit driven red wines and quality white wines which are notably crisp and refreshing. The consistency in quality of these wines has led to Rousse being the Bulgarian champion of the 1998 International Wine Challenge, winning no less than a praise worthy fourteen medals
Svischtov
Svischtov winery celebrated its 50th anniversary in 1998, signifying half a century in the pursuit and capture of a distinctive style. The wines not only contain good fruit content but represent the perfect equilibrium of fruit, tannins, oak and acidity. Typically, the excellent Gorchivka Cabernet Sauvignon 1994 is slightly tawny in colour displaying soaked fruit cake flavour. The red wines of Svischtov are especially dignified in structure and are particularly good partners to stews and meat dishes
Lovico Suhindol
To the north of the Balkan Mountains, near to the Danube Plain, lies the celebrated winery of Suhindol. In 1992, the descendants of its original founders purchased the shares of the winery from the Government, establishing the first Private Bulgarian Winery. The long heritage of wine production in the district, together with the Dragiev family' commitment to its partners in grape production quickly brought success to their enterprise. Expansion of vineyard ownership, exciting developments in the winery and rigorous quality control have ensured that Suhindol's wines will remain an important part of the Bulgarian Wine Trade for many years to come.