BELOGRADCHIK - a town in the western parts of the Fore-Balkan, 52 km south west of Vidin. Mountain resort at an altitude of 520 m. Population 6 700. It appears as a Roman fortress among the Rocks of Belogradchik. A historical museum, very old houses are still standing.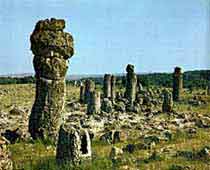 The Rocks of Belogradchik are formed of versicoloured Triassic sandstones and conglomerates. These have fantastic outlines - silhouettes of people, towers, ships, mushrooms, obelisks, palaces, and animals. Most remarkable are Pine Stone, Adam and Eve, Sphinx, Schoolgirl, Nun, Bear. There one can find the fortress of Belogradchik built by the Ottoman conquerors on the remains of the Roman fortress. It was used for the last time during the Serbian-Bulgarian War of 1885. It has been restored and arranged as an open-air museum.

The rocks are a natural site and a national beauty spot.