Rousse is the largest Bulgarian city on the Danube river. It is situated in the north-eastern part of Bulgaria, 300 km far from the national's capital Sofia. Rousse's rich historical past shows that the Danube river was the basis of existence. From it's foundation up to now, in spite of the names the town had through 19 centuries, it was a Danubian harbour.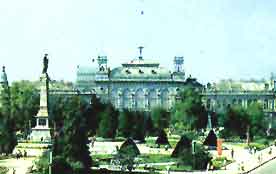 The town was founded at the time of the Roman emperor Vespasian over the period of 69 – 79 AD as a fortress called Sexaginta Prista, meaning The harbour of the sixty ships. The fortress lasted for almost six centuries and then perished under the storms of the Barbarian invasions.

In the Middle Ages the Rousse region was among the most developed areas of the Bulgarian state. At the time of the Otoman Yoke Rousse was an important fortress and the main gate to the north of the Turkish empire. It was called Rouschouk.

In the nineteenth century, Rousse was the first town in Bulgaria to acquire a pronounced European look which came an illustration of its economic prosperity at the turn of the century. The first and only newspaper printed in Bulgaria came out in Rousse in 1865.
The building of the Rousse – Varna railway which was the first of its kind in the Balkan lands largely contributed to the growing significance of the town. The first public pharmacy and the first bookshop were opened in Rousse. In 1871 the first teachers' association was set up here.

After the Liberation in 1878, Rousse continued being one of the largest towns in Bulgaria. It became the craddle of the Bulgarian shipbuilding when the first iron ship was built in 1881.
The first private bank "Girdap" with authorized capital of 5 million golden francs and the insurance company "Bulgaria" were established in 1881.
The first Chamber of commerce and industry in Bulgaria was established in Rousse in 1895. In 1897 just two years after the show of the Lumiere brothers in Paris, the residents of Rousse