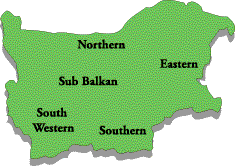 6% of Bulgaria's vineyards is lying in this region.
The rugged, wild south western region of Bulgaria has a distinctive landscape that distinguishes it from the rest of the country. The Rila and Pirin Mountains form the highest, stormiest peaks in Bulgaria and are attractively adorned with alpine lakes and mountain forests. The sole geographic feature to impact upon this grandiose scenery is the Struma River. This river sweeps down from Mount Vitosha, which dominates the southern skyline of Sofia, southwards through the mountains. Along its route, the river cuts across fertile flood plains and through steep arid gorges.
The rugged landscape south of Sofia.
The attractive domes of the Rila Monastery which is part of UNESCO's World Heritage.
The south western region has a distinctive climate due largely to the fact that the rainfall is evenly distributed in each month of the year. The winters are mild and the summers are warm despite the altitude, owing to the influence of the Mediterranean Sea. The soils are similar to the rest of the southern region being composed of dark sandy clay. The acidity of these soils is slightly higher which reflects in the wines.
Wineries
Damianitza
The winery specializes in the production of full bodied red wine made from the indigenous 'Broad Vine of Melnik' grape. Melnik wine is dark ruby in colour with subtle aromas and a refreshingly sweet astringency. This immensely full bodied wine has impressive ageing potential. The fame and glory of this wine dates back centuries throughout the royal courts of Europe. Nowadays, Damianitza continues to produce the very best Melnik wines to the delight of those who enjoy the fuller, richer style of reds and also in a medium bodied more modern style.