A town on river Cherna in the southeastern foothills of Moursalitsa elevation, Western Rhodopes, 258 km south-east of Sofia; tourist and resort center at an altitude of 950 m. Population of 34 000.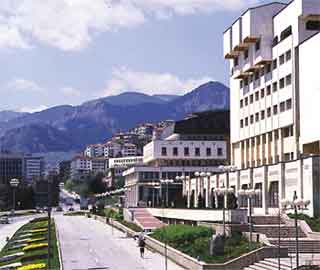 Thracians are the earliest settlers. About 1 c. B.C. the district is conquered by the Roman empire. In 7 c. Slavonic tribe Smolyani settles here. Within the territory of the Bulgarian state since 9 c. Until its fall under Ottoman domination (after 1372) the town is interchangeably dominated by Byzantium and the Bulgarian state.
Towards the middle of 17 c. and the beginning of 18 c. the population is subjected to mass conversion to Mohammedanism. In spite of the struggle for national independence, as a result of the Berlin peace treaty of 1878, Smolyan remains under the domination of the sultan and is liberated as late as 1912.
The present day town is founded in 1960 as a result of merging of towns Smolyan and Oustovo with village Raikovo. In 1973, choosing a free ground, the local people begin the construction of a new community center to unite the three districts. Architecture is modern, committed to the aesthetic principles of the Rhodope house.
One of the natural attractions of the town is the age-old plane-tree with a circumference of 6.60 m.
In each of the three districts there are preserved Revival houses, united to form ensembles or set apart. Rhodope house raises in height on the scarce steep terrain. The high stone ground floor makes for an inner yard. One can enter it straight from the street through a wide gate. The main floor that comprises the living quarters, has whitewashed overhanging bays. Quite typical are the so-called brother houses comprising two identical in dimensions and distribution halves. Old houses are covered with large tile-stones, chimneys are varied in form, often capped with cone-like covers called "koukli".
Raikovo quarter comprises the largest number of preserved monuments – Cheshitev house, Gyordzheva house, Radyo Karakostov house, Ali Bei Konak, etc. One of the biggest and most beautiful houses preserved is also found here and this is Pangalov house (1860). Distribution and facades are symmetrical. Outer design is varied and bright. An ethnographic exposition is arranged in the house.
In Raikovo one can see three-nave basilicas "Sveta Nedelya" (1836, masters H. and V. Kisyov, painted in 1882, icons of 1870) and "Sveti Teodor Stratilat".
Here in Raikovo one will find the historical Kayuvo Dere where in 1720 Bulgarians were massacred.
Architectural sites of bigger interest in Oustovo would be Peko Takov house, Sheremetev house, three-nave basilicas "Sveti Nikolai Choudotvorets" (1836, master Stoyo Dimov, icons by S. Dospevski and D. Zograf) and "Sveta Bogoroditsa".
In Smolyan one can see churches "Sveti Georgi" (1858, painted in 1888, wood-carved altar doors, a belfry of 1904) and "Sveti Douh (1891). Several Revival houses have been preserved.