Bulgaria's second city, Plovdiv, is a worthy rival to Sofia. Its situation astride the River Maritsa, and its three hills which are prominent features on the Thracian plain, indicate its strategic significance and account for its long tradition as an inhabited place. Here Thracians, Romans, Byzantines, Ottoman Turks and Bulgarians have all made an architectural impression.

The center of the modern town is the huge main square across which the Post Office and the faded elegance of the Hotel Trimontium face each other. From the square, the main street leads to Freedom Park, with its fountains and colored lights, this is the route of the twice daily promenade. It is fun either to watch from a cafe or to join the walking, chatting crowd.

In this part of Plovdiv the few remaining ruins of a Roman stadium are visible below street level. The Dzhumaiya and Imaret Mosques, with their distinctively patterned minarets also catch the eye. It is, however, the Old Town which attracts most visitors.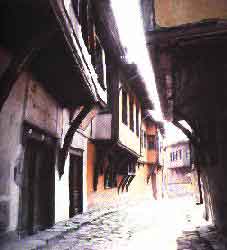 Once again there is a feast of National Revival style, here elevated to more sophisticated architectural levels than in the small towns and villages. There is a verifiable warren of cobbled alleys and wandering rather than map-reading is the best approach, allowing the visitor to follow tempting paths at will.
No-one should miss the Roman theatre, an astonishing archaeological discovery made in the early 1980s. These impressive ruins would have been part of the acropolis of Trimontium, built when the Romans made it a provincial capital in the 2nd century. Along some streets, ancient fortress walls from Byzantine times can be seen, and high up on the hill is the even older ruined citadel of Nebet Tepe. This stronghold was fortified first in the 5th century B.C. by a Thracian tribe, and was subsequently seen as an essential target by every successive conqueror of this region.