This town reside Stara Reka River, at the southern foot of the Middle Balkan Range, 56 km north of Plovdiv. Population of 27 000.

The town springs to life close to an older settlement - Soushitsa (probably in the place of medieval town-citadel Kopsis). In the 16th-19th centuries crafts develop (till the Liberation of 1878 Karlovo is the only smelting center in the country), rose is being grown, attar of roses is obtained. The town is in economic, cultural and educational upsurge, the population is public-spirited, freedom-loving, taking active participation in the struggle for national and religious independence.

Karlovo is the birth-place of Vasil Levski.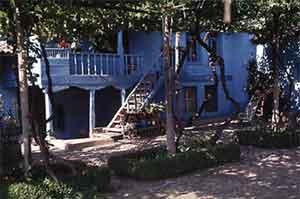 Vasil Levski - a Bulgarian revolutionary, national hero, ideologist, strategist and theoretician of the Bulgarian national revolution, leader of the struggle for liberation. Born on 18 July 1837 in Karlovo. Brought to the gallows on 18 February 1873 in the outskirts of Sofia. The house he was born in has been restored and turned into a museum.

Some 115 buildings have been preserved and proclaimed national cultural monuments, among which Kourshoum Mosque (1485), Astardzhiev house (1840), Dervish house (1850), Zoev house, Kozarev house and others. The yards in Karlovo are spots of abundant greenery, cobbled lanes and nice stone fountains.

The following churches are still standing: St. Nicholas Church (1847, one can see the grave of Gina Kouncheva, Vasil Levski's mother, in the church yard), the Church of the Holy Virgin (1859 with mural paintings by S. Dospevski and I. Zografski). Karlovo is a starting point to the Middle Balkan Range. North of the town one can see Souchouroum waterfall.